Outdoor dog houses come in a large variety of shapes, sizes, and materials. The one thing that they all have in common is that they are absolutely essential for any dog that spends a large period of time outside.
Here are some reviews of dog houses for sale.
Dog House Reviews
Suncast DH250 Dog House
 Excellent design, material and quality for the price!
This dog house is so simple to put together even the DIY novices like myself could do it in under five minutes. The parts snap in to place easily and the instructions (if needed) are clear and simple.
The plastic is really strong and sturdy – just what is needed with my dog! This is the perfect size for a medium sized dog, so for my staffy it was perfect. If you have a large dog, such as a Great Dane, I'd advise maybe getting the size bigger, just so they have more room inside. But this is definitely sufficient if you don't have a massive horse sized dog!
Our dog was straight into the dog house when it was assembled, having a good sniff and bounding in and out. So thankfully, it is sturdy as he would have taken out the cheaper, more flimsy versions within minutes.
My friend has also purchased one for her dog and said the children love this more than their own wendy house, so it has more than one purpose!
This dog house stands up well to any weather – there are some great door flaps included which we attached in winter and do provide great shelter. We take them off in summer as our dog likes to hang out of his house sunbathing.
Highly recommended by myself and our staffy
Easy snap together assemble, no tools required.
Suncast DH350 Dog House
The designers have added a really nice touch to this dog house. You receive stickers that you can put above the door showing the dog's name. It's something really small, but really gives that personal touch.
The dog house is made from sturdy, strong plastic and was really simple to put together (took us about 10 minutes). We've had some really big storms lately and this dog house has stood up to this better than any dog house we've owned before.
Previous houses have lost their roof or been lifted and thrown across the garden in strong winds. This house stood firm. There are some great plastic flaps that you can attach around the entrance to shield from the rain. As long as your dog doesn't chew these, they work really well!
It's spacious, which is great when my friend brings her dog to visit and the two of them bed down together after running riot. She's actually gone out and bought one having seen ours.
Another great factor is you can easily take it apart and take it with you, if you are going on holiday for example. We've recently taken a trip to the lakes and took the dog house with us.
Still as sturdy as it was when we first put it up, so doesn't lose its quality when you take it apart.
Really great item and our dog loves it (as do his friends)!
Easy snap together assemble, no tools required.
Large Dog House Lodge with Porch Deck Kennels Crates Solid Fir Wood Spacious Deck for Sunny Nap Insulated Keep Rain Out Outdoor 67w X 31d X 38h

 I absolutely love this dog house – the dogs have their own porch! It looks great and I've had so many comments from visitors. A few friends have actually gone out and bought one having seen ours. It's beautiful.
Assembly is pretty easy, bearing in mind what the finished product looks like. It obviously takes a little time to get all the bits in place but it's really straight forward and looks exactly like the picture.
I've got two medium sized dogs, who both love this little house and often use their porch for sunbathing. Even in England they do get the rare opportunity to do so.
It stands up well to the wind and rain. You can purchase a spray sealant to protect the wood, which I would recommend as I wanted to protect this beautiful house as much as I could. The rain runs off it with this spray, so definitely worthwhile.
When the sun is just a little too hot, the house interior is a cool refuge with a window to help with airflow.
You'll appreciate the solid wood construction, and the rich stain makes this dog house an attractive addition to your yard.
It doesn't take up too much space, even with the porch. What you get for the price is amazing. Highly recommended
Petmate Indigo Dog House with Microban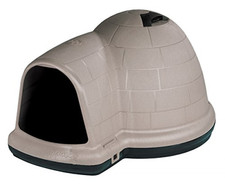 The Petmate Indigo with Microban is a top-of-the line igloo-shaped doghouse featuring an extended, offset doorway for rain resistance and wind protection.
The heavy duty construction will help keep your pet protected from outdoor elements and roof ventilation allows for continual air flow.
Indigo is made with Microban to fight the growth of stain and odor-causing bacteria.
Made in the USA.